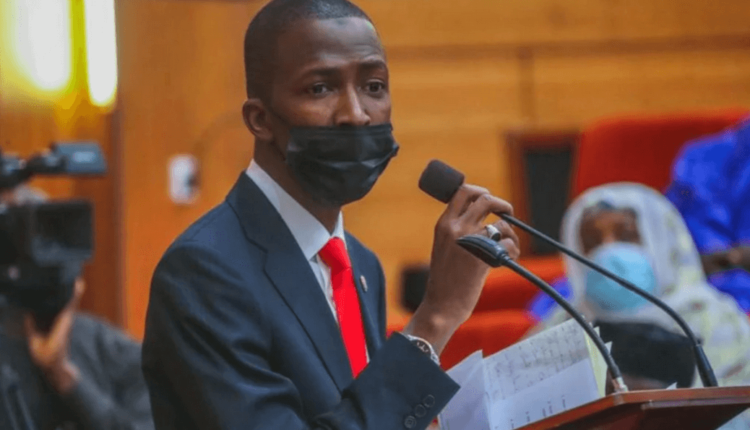 Alleged US$2.5billion Thieving Former Nigerian Petroleum Minister Did Not Have Diamond Brassieres
…EFCC Chairman
Chairman of the Economic and Financial Crimes Commission of Nigeria, Abdul Rasheed Bawa, has denied media reports that assets recovered from former Nigerian Petroleum Minister, Diezani Alison-Madueke, included the world's most expensive brassieres.
Speaking to journalists, Mr. Bawa denied that the Commission recovered the supposed US$12.5million diamond brassieres from the former Minister who is now a fugitive from the law after fleeing the country following Good Luck Jonathan losing the election to Buhari.
"You have accused us several times of media trial, but I think it's good to be fair to everybody at all times. Justice is a two-way thing. There was nothing like a diamond bra. It's a creation of social media," he said.
"I can tell you that for free because I am the lead investigator on that. I'm not aware of it. If there is something on that, I should know because I led the search and all of that," Bawa told journalists.
As part of the saga involving the former Petroleum Minister, who is alleged to have stolen US$2.5billion from the Federal government, it emerged that assets recovered from her by investigators after she fled the country included a US$12.5million diamond brassiere.
The supposed bra, said to be called 'Heavenly Star' was touted on social media as one of the world's most expensive bras and that it had been made in 2001 by US fashion super brand, Victoria's Secret.
Allegedly, the bra is made with 1,200 pink sapphires with a supposed Nelly Karat flawless emerald diamond costing US$10.5million hinging the middle of the cups of breast holders.
The US$10.5million middle diamond had supposedly been crafted by US-based celebrity jeweler, Nelly Mendoza.
If this claim were true, it would mean that the former Petroleum Minister had blown a whopping 5.1billion Naira on a brassiere. And the 60-year-old fugitive was said to have had a pair of golden brassieres as well
But according to the Chairman of the EFCC, no such diamond brassieres were found.
Abdul Rasheed Bawa, however, confirms that other items recovered, including magic skirts and invisible brassieres have indeed been retrieved from the run-away former Minister
Diezani, who had fled the county shortly before former President Goodluck Jonathan handed over to President Muhammadu Buhari in 2015, is alleged to have stolen $2.5 billion from the federal government while she was a minister — an allegation she has denied.
The EFCC has since commenced a process to extradite her back to Nigeria to face charges.
In October, the federal government listed assets forfeited by Diezani to include properties located in Banana Island Foreshore Estate, Ikoyi, Lagos.
Other items listed are 125 wedding gowns, 13 small gowns, 41 waist trainers, 73 hard flowers, 11 suits, 11 invisible bras, 73 veils, 30 braziers, two standing fans, 17 magic skirts, six blankets, one table blanket and 64 pairs of shoes.