Ghana inflation rate jumps to four-month high
Ghana's inflation rate rose to the highest level in four months in November as the cedi continued to weaken.
Annual inflation quickened to 8.2% in from 7.7% in October, Government Statistician Samuel Kobina Annim told reporters in the capital, Accra, on Wednesday. The median estimate of three economists in a Bloomberg survey was 7.6%. Prices rose 0.7% in the month.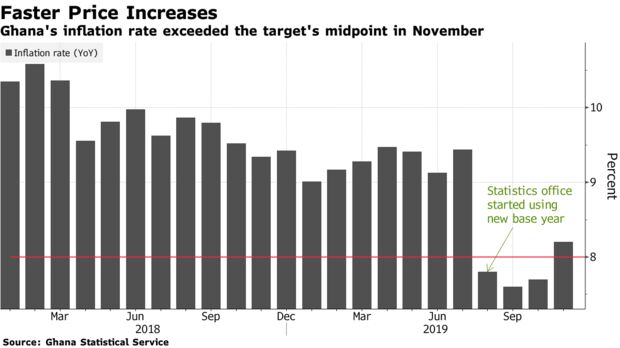 Key Insights
This is the first time since the statistics office started using a new base year for the consumer price index from August that inflation is above the midpoint of the central bank's target band of 6% to 10%. The agency hasn't provided revised price-growth data for the months before August, complicating the calculation of longer term trends.
The central bank said in November it sees inflation staying inside its target range, barring any unforeseen shocks. The cedi extended losses after the central bank held its key rate at 16% last month, taking its fall against the dollar to 13.7% for the year. That is adding to price pressures.
Source: Bloomberg